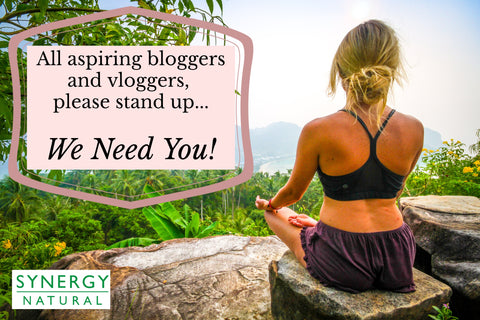 Posted by Ghalia Khan on
All aspiring bloggers and vloggers, please stand up, we need your help!! Here at Synergy Natural we LOVE hearing from you and finding out about what you think about our products and just how you use them. We are not just looking for people with lots of followers. We want passionate, active creators to help us out. Are you ready for a new challenge?
Tags:

Australian Spirulina, Barley Grass, Blue green algae, Chlorella, dietary supplement, Energy, Essential fatty acids, Green drinks, Green superfood, health, lean abs, Marine algae, Natural multivitamin, Natures richest, Naturopaths recommend, Organic, protein, Raw, Shakes Protein shakes, Smoothies, Sprirulina, superfood, supergreens, Synergy Natural, vegan, Vegetable protein, vegetarians, weight loss, Weight management, Wheat Grass, wholefoods
---
Posted by Ghalia Khan on
There are a million reasons why you need to eat healthy, exercise regularly, make sure you eat in moderation and generally look after yourself! Here at Synergy Natural we want to help you with this, and so we have created some of the best vitamin supplements around (yes, we may...
Tags:

Chlorella, dietary supplement, Energy, Essential fatty acids, Green superfood, health, lean abs, Natural multivitamin, Natures richest, Naturopaths recommend, Organic, protein, superfood, supergreens, Synergy Natural, vegan, Vegetable protein, vegetarians, weight loss, Weight management, wholefoods